Karlovy Vary – Spa of the world at the foot of the Ore Mountains
The fashionable spa town with mineral springs at the foot of the Czech Ore Mountains became famous 300 years ago due to stays of the Russian Tsar Peter I. Today you can taste the healing waters of the thermal springs for yourself. A walk along the colonnades will take you to specially enclosed springs surrounded by impressive 19th century architecture.
Karlovy Vary is a place of enjoyment and culture. In addition to a wide range of events from classical music to cabaret, the film industry meets here once a year for the International Film Festival.
The way to Karlovy Vary leads through the German and Czech Ore Mountains. At the foot of the 1245m high Keil mountain, the mining town of Jáchymov nestles in the valley. In the former Jáchymov the silver coins of the same name were minted, to which we owe the dollar today. And Marie Curie coaxed radium out of the local mountains, worthy of a noble prize.
Day trip to Karlovy Vary
Program and highlights of the day tour to Karlovy Vary
Ore Mountains tour with flying visits to the German and Czech Ore Mountains
In the footsteps of Marie Curie and the Joachimsthaler (Dollar) in Jáchymov
Culinary break in the spa district of Karlovy Vary
Colonnade tour with tasting of various thermal springs
Small tour around Karlovy Vary with typical tastings
During Advent and Christmas
Guided tours of the Karlovy Vary Christmas Market
Light tour through the most beautiful places of the Ore Mountains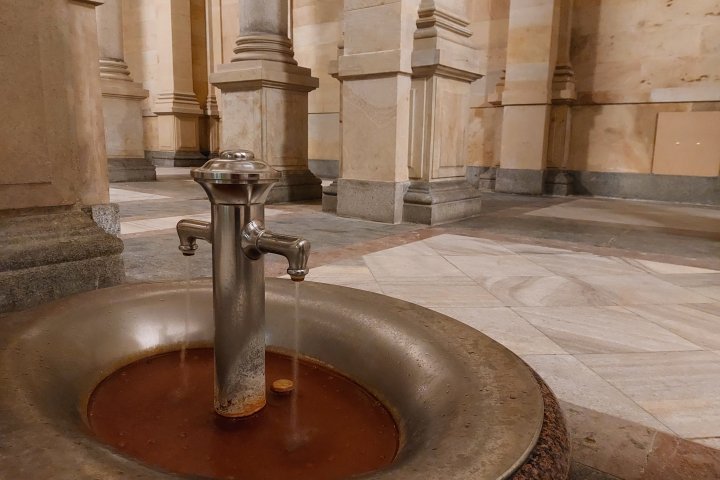 Services


Individual day trip in minibus up to 8 persons according to the program
Accompaniment by certified tour guide
Tour program (see above) with daily individual adaptation
Suitability for wheelchair users (2 wheelchair places, boarding aids)
doorstep pickup
regional tastings


Price


495,- € incl.

VAT

. Group price for 1 to 8 persons (minibus)


Dates


all year round Saturdays, Sundays, holidays, immediately bookable
other dates on request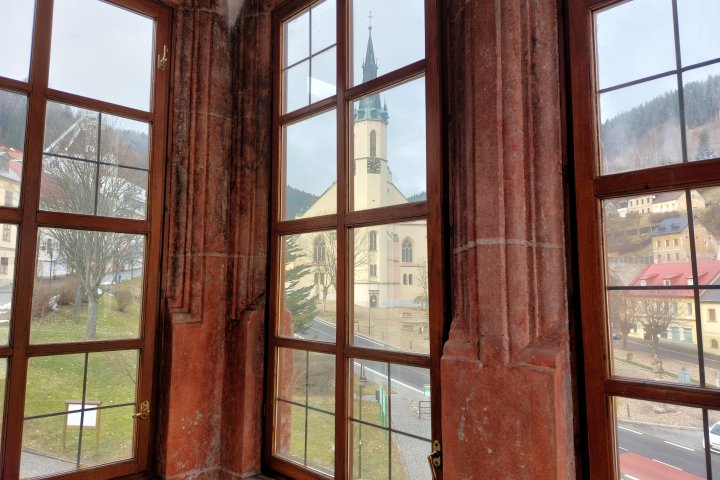 Start and finish


Start 9 am pickup from hotel or home in the area of Saxony (Chemnitz, Leipzig, Dresden, etc.) and also from the area of Halle, Gera or Jena.
Finish 6 p.m. Arrival at pickup location or by appointment.


Number of participants


up to 8 persons
up to 2 wheelchair users


Cancellation conditions


up to 4 weeks before departure cancelable free of charge
up to 24 hours before departure rebookable free of charge
from 24 hours before departure cancellation fee 100% of the tour price


The day trip to Karlovy Vary is suitable for you if you …
are a guest in Leipzig and you feel like visiting spa facilities.
want to see where European aristocrats liked to relax 100 years ago.
always wanted to know where Marie Curie did her research.
would like to drink medicinal water directly from one of the 12 springs.
love 19th century architecture and are open to shopping.
are enthusiastic about small side trips during arrival and departure.
do not know the summit experience Fichtelberg yet.
would like to try bohemian cuisine.
… .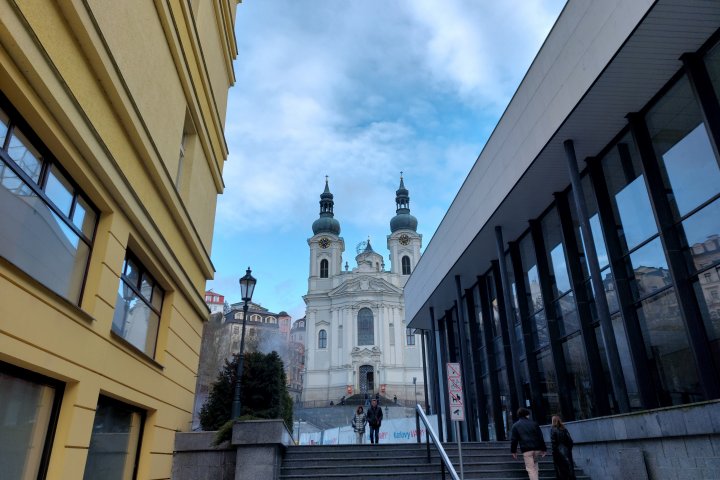 More tips and advice for the day trip to Karlovy Vary.
You will be mostly transported by minibus. In Karlovy Vary we also move around on foot. However, depending on individual preference, you should not walk more than 2 to 3 km. Please make sure you are dressed appropriately for the weather.
Direct contact with the tour guide
Pedro Oehme
0049-371-27550675
info(at)die-tagestour.de

Do you have questions about the tour or are you interested in an individual program? Then please click the button below. After complete input of your data you will receive an answer. There will be no extra costs.

You would like to book and pay the day tour by invoice? Then please click the button below. After complete entry of your data you will receive an invoice by mail. There will be no extra costs for you.

You would like to book and pay for the day tour online immediately? Then please click the button below. You will be redirected to the booking and payment partner Bookingkit. There will be no extra costs for you.

<! --/container -->

<! --/service -->